LAFAYETTE ELEMENTARY SCHOOL: WORKSHOP #3
October 24, 2017 – As always, we had a great time hanging out with the students at Lafayette Elementary School! This workshop incorporated the student leaders' ideas and suggestions for the new green schoolyard.
HOODLINE WRITES ARTICLE ON RINGOLD ALLEY'S LEATHER MEMOIR
September 29, 2017 – Many thanks to Hoodline for writing a detailed piece on Miller Company's art installation and the leather community in SF's SoMa neighborhood!
MILLER COMPANY'S DESIGN FOR LAFAYETTE PARK PLAYGROUND FEATURED IN NEW BOOK
August 23, 2017 - Our work at Lafayette Park Playground was featured in the new book "How to Grow a Playspace: Development and Design" by Katherine Masiulanis and Elizabeth Cummins...a great collection of projects discussing the design process!
LEATHER MEMOIR ARTICLE IN MEDIUM.COM
August 1, 2017 – Laura Paull recently wrote an article discussing the rich history in SoMa's leather district here in SF.
SF WEEKLY WRITE UP ABOUT RINGOLD ALLEY
July 31, 2017 - The Up Your Alley fair on Folsom Street was held this past weekend. Check out the wonderful article SF Weekly wrote about the new art installation we designed at Ringold Alley in SoMa.
LEATHER MEMOIR INSTALLATION IS ALMOST FINISHED!
June 21, 2017 – EDGE has written a wonderfully thorough article about the art installation currently underway at Ringold Alley. Learn more about the history of SF's leather culture as well as the "Leather Memoir" that Jeffrey Miller has been working on!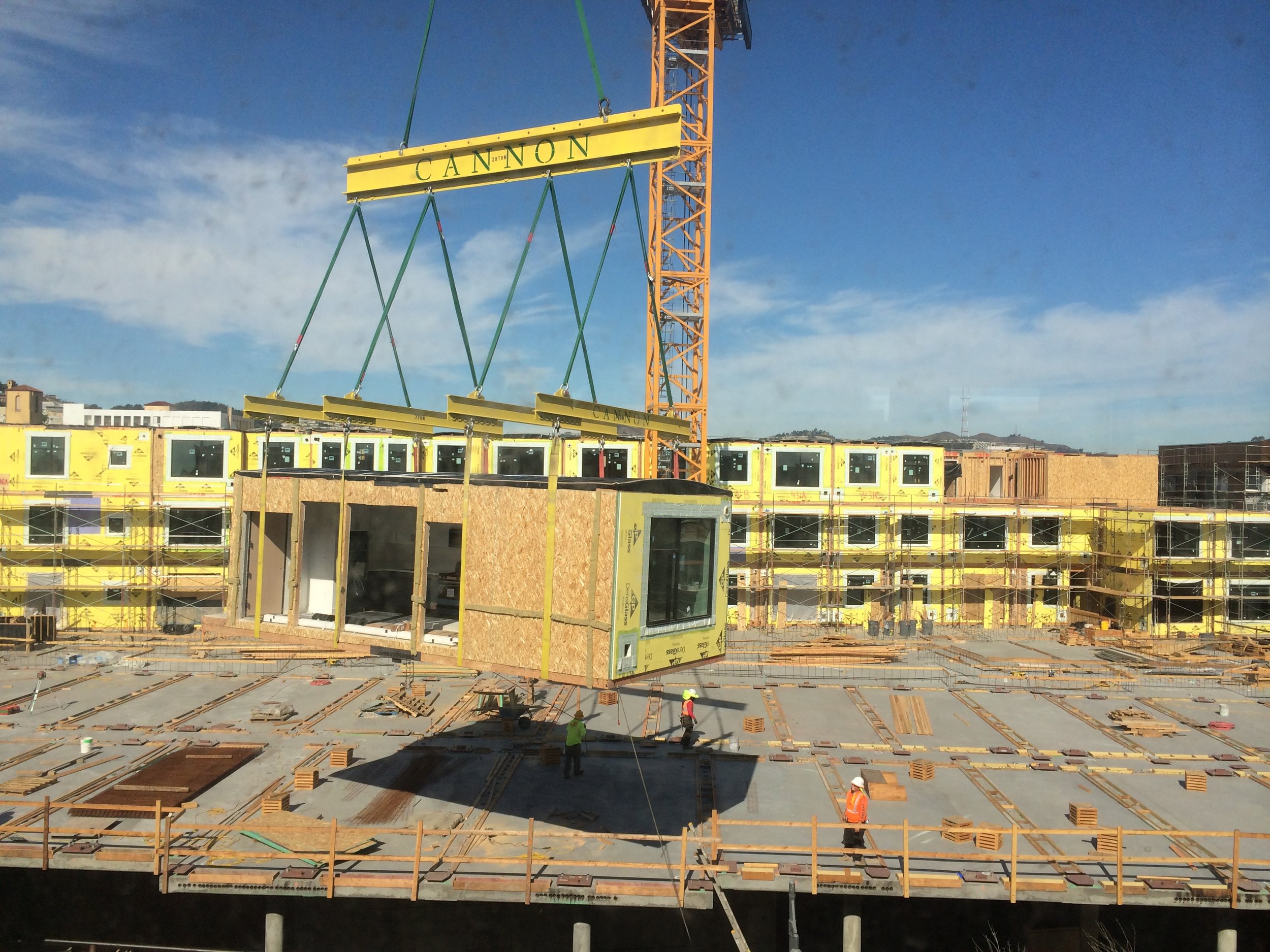 MODULAR HOME CONSTRUCTION AT WATERBEND - 5880 THIRD ST
June 13, 2017 – Very cool to watch the modular construction at our project located at 5880 Third St!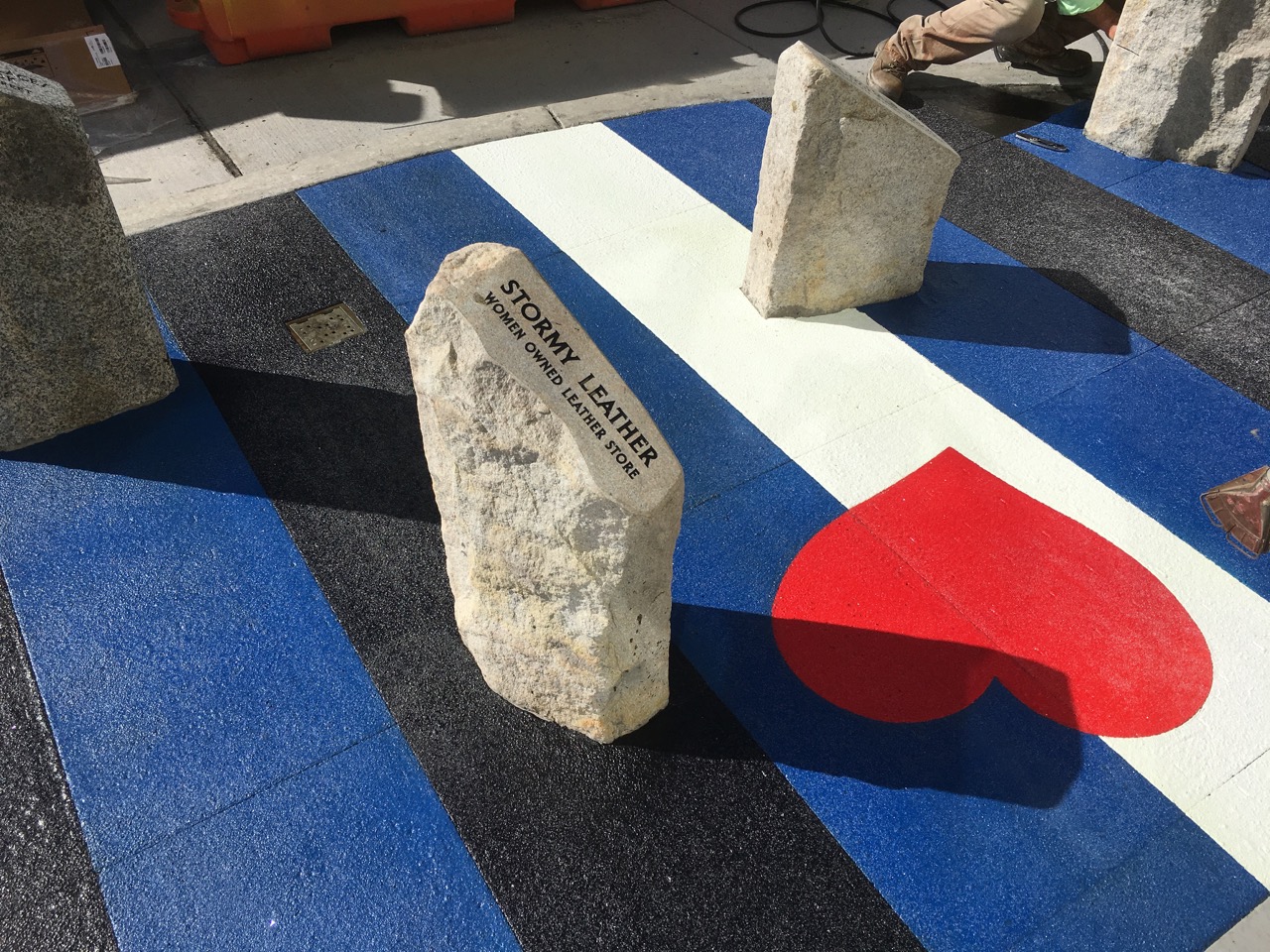 ARTWORK INSTALLATION AT RINGOLD ALLEY
JUNE 2, 2017 – The artwork paying homage to the LBGTQ leather community of SoMa is very close to being completed! Located in the Ringold Alley [between Folsom & Harrison and 8th and 9th streets], this historical tribute celebrates the beginnings of SF's gay culture before the emergence of Castro in the 1970s. Learn more about the project here.
EDUCATION OUTSIDE HAS PUT TOGETHER A GREAT VIDEO HIGHLIGHTING SEVERAL OF THE SFUSD'S GREEN SCHOOLYARDS
May 8, 2017 – Education Outside, a wonderful and inspiring organization working with 47 full-time AmeriCorps members, helps many of SF's public schools teach students about science and the environment in green schoolyards. They have put together a video that highlights their work and many of the outdoor classrooms that we have designed including Glen Park, Lafayette, and Sherman Elementary schools. Learn more about the green schoolyards that we have built here!
SF CHRONICLE ARTICLE FEATURES ONE HENRY ADAMS PROJECT
April 12, 2017 – John King from SF Chronicle wrote a piece about a handful of current mid-rise housing projects and some of the obstacles faced building in San Francisco. Included are two of our projects: One Henry Adams and Ringold Alley [at 8th and Harrison]. Read the article here.
800 UNIVERSITY RECEIVES 2017 DESIGN AWARD FROM BERKELEY DESIGN ADVOCATES
MARCH 16, 2017 - Miller Company is proud to be a part of The Aquatic I - 800 University Avenue project which recently won a Design Award of Excellence from Berkeley Design Advocates.
The mix-use building features 58 units with 1,175 square feet of office/retail space, 1,600 square feet of open space east of the parking lot and 1,500 square feet of private open space including a rooftop garden.
WISHING KYLA BURSON A FOND FAREWELL
February 7, 2017 – Miller Company announces with mixed emotion the departure of Kyla Burson, who will soon be moving to Portland, Oregon with her husband Barry and son Raymond. We would like to reflect a bit on the past 11 years of working together with Kyla here.
News 2017