THANKS FOR A SUCCESSFUL HILLTOP PARK CLEAN UP DAY AND SKATE JAM!
November 13, 2014 - Over 75 people showed up to pitch in for the Hilltop Park CleanUp Day this past Saturday! Afterwards, the Skate Jam celebrating Hilltop's Skate Park attracted skaters and families from all over the area. Special thanks to the Trust for Public Land and the SF Recreation and Parks Department for all pitching in to this community effort!
View more photos from the day on our Flickr page:
https://www.flickr.com/photos/millercompany/sets/72157649268326555/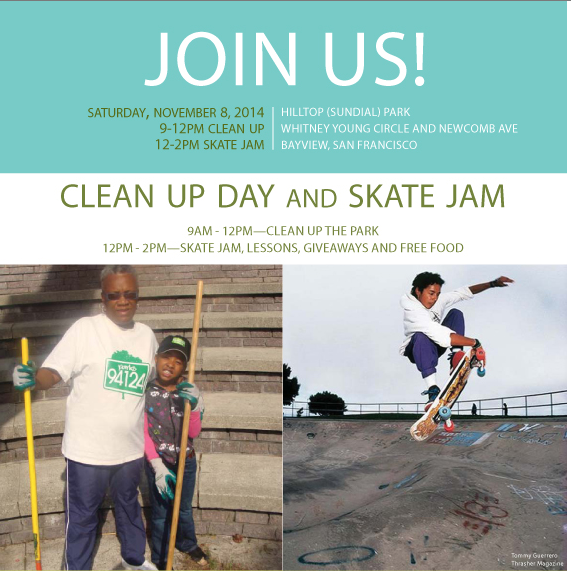 HILLTOP PARK CLEAN UP DAY AND SKATE JAM TO BE HELP ON NOV 8
November 3, 2014 - Join us for a Community Clean Up Day at Hilltop Park from 9am-12pm on Saturday, November 8th! The community is invited to take part in cutting back vegetation and sprucing up the park, followed by a Skate Jam from 12-2pm. Hilltop Park is located at the corner of Whitney Young Circle and Newcomb Avenue in San Francisco.
To RSVP or for more information, contact Trudy Garber of the Trust for Public Land at 415-800-5274.
FALLEN BRIDGE PARK FEATURED IN POTRERO VIEW
October 6, 2014 - Fallen Bridge Park was recently featured in the October 2014 issue of the Potrero View newspaper. The article highlights the grassroots community effort that brought about Fallen Bridge Park, located at the corner of Utah and 18th Streets in San Francisco. Miller Company has provided the landscape architecture for this multi-phased project, and just recently completed the 2nd phase, which includes a level active court for neighborhood games, site retaining walls, and new native plantings. Click here to read the full article.
COMMUNITY MEETING DATES FOR ALTA PLAZA PARK ARE SET
September 22, 2014 - Miller Company will be holding community meetings to discuss the plans for Alta Plaza Park on the following dates:
Our 2nd meeting will be Wednesday, October 15, 7:00 to 9:00 p.m., at the Town School, 2750 Jackson Street;
Our 3rd meeting will be Saturday, November 22, 2:00 to 4:00 p.m., at the SF Waldorf School, 2938 Washington Street;
Please join us for this important part of the community planning process!
MILLER COMPANY SELECTED FOR ALTA PLAZA PARK
September 16, 2014 - Miller Company has been selected to work with Friends of Alta Plaza Park, neighborhood residents and park users to create a new long range Landscape Master Plan for Alta Plaza Park. The 12-acre park is located in the heart of Pacific Heights between Clay, Scott, Jackson, and Steiner Streets in San Francisco. Originally designed by John McLaren in 1888, the park is a neighborhood resource as well as a destination for park users city wide that features magnificent views of the city and the bay, and has fallen into disrepair over the years with decaying pathways and aging infrastructure. Miller Company is facilitating three open community meetings where public input will be encouraged in an open dialogue. Once completed the Master Plan will be presented to the Recreation and Parks Commission with the intention of establishing a process for implementing the renovations and park improvement features. Stay tuned for more information on this exciting project!
THE SECOND PHASE OF FALLEN BRIDGE PARK IS NOW COMPLETE!
August 18, 2014 - The second phase of Fallen Bridge Park is now complete and neighbors are actively using the area for lively pétanque games, dog walking, and simple relaxation. Miller Company continued our work on the site with the construction of new stone walls along the sidewalk, the creation of a level active court for neighborhood games, site retaining walls, and new native plantings. Neighborhood volunteers assisted with the planting again as they did on the first phase of work.
We are hoping to complete the project within the next year with the installation of an new access ramp, new plantings, and the continuation of the curbside stone wall, tying phases one and two together. We are happy to have assisted the community with design and installation service. The transformation of this once neglected site adjacent to the 101 Freeway sound wall is nearly complete. It has now become a beautiful urban wayside park that invites neighborhood use and attracts birds and butterflies too!
LAFAYETTE PARK'S PLAY STRUCTURES
July 2, 2014
- Miracle Playgroup, based out of Oakland, recently highlighted our Lafayette Park design. Check out the new photos on their site!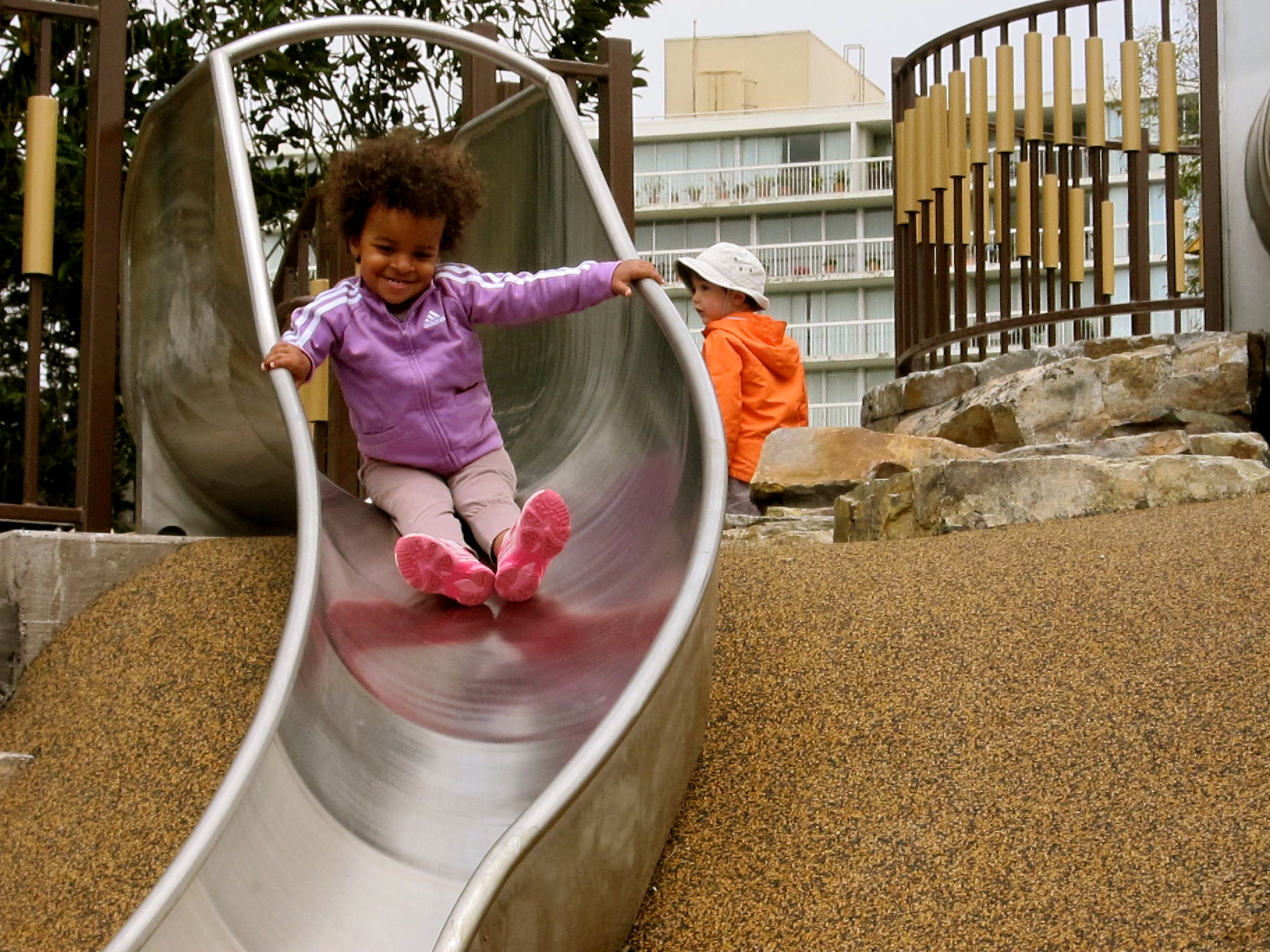 LAFAYETTE PARK FEATURED IN WORLD LANDSCAPE ARCHITECTURE
April 14, 2014 - Miller Company's Lafayette Park Playground was recently featured in World Landscape Architecture. Read more about this project here!
NEW KEZAR TRIANGLE VIDEO
April 14, 2014 - Miller Company recently celebrated its new landscape design of Kezar Triangle in Golden Gate Park in an opening ceremony held on March 22, 2014. Featuring Carla Crane of the Carla and David Crane Foundation, the San Francisco Recreation and Parks Department, San Francisco Parks Alliance, San Francisco Municipal Transportation Agency, and the Department of Public Works, watch the video to see some of the great features of this beautiful new public recreational space!
OPENING CEREMONY FOR KEZAR TRIANGLE ON SATURDAY, MARCH 22
March 19, 2014 - We are happy to announce that Kezar Triangle in Golden Gate Park will be celebrated in an opening ceremony on March 22, 2014, from 1-5 p.m.! Working closely with the Friends of Kezar Triangle, we have provided a design that has brought new life to this part of Golden Gate Park; with new accessible pathways, native plantings, entry plazas and sites for ongoing, temporary nature-based arts installations. Many thanks to the David and Carla Crane Foundation for asking us to work with them, and to the Friends of Kezar Triangle, the neighboring community, the San Francisco Department of Parks and Recreation, and the San Francisco Department of Public Works. Click here for more information about opening ceremony activities!
GROUNDBREAKING CEREMONY FOR THE DR. GEORGE W. DAVIS SENIOR CENTER THIS SATURDAY, MARCH 1
February 26, 2014 - Miller Company collaborated with David Baker Architects to create the design for the Dr. George W. Davis Senior Center and Housing in San Francisco. Come celebrate the long-awaited ground-breaking ceremony for this project on Saturday, March 1, 2014, 10 a.m., at 5800 Third Street @ Carroll Ave. Our design included a new community garden, landscape forcourt and drop-off area, an inner courtyard, and an extension of the pedestrian greenway connected to Third Street. More information about the event here:
Image credit: David Baker Architects
FALLEN BRIDGE PARK FEATURED IN SF CHRONICLE
February 5, 2014 - An article published in the San Francisco Chronicle today highlights a neighborhood initiative that raises funds through taxes to renovate parks and open spaces in San Francisco, including Fallen Bridge Park. Since 2007, Miller Company has provided pro bono master planning, design, and construction administration, and also served as the landscape contractor for Fallen Bridge park, located at Utah and 18th Streets. Working closely with neighborhood residents, including Jean Bogiages who is featured in the article, our team developed the Fallen Bridge Park Master Plan in 2007, which will begin its next phase in early April. Stay tuned for more updates on this project.
News 2014